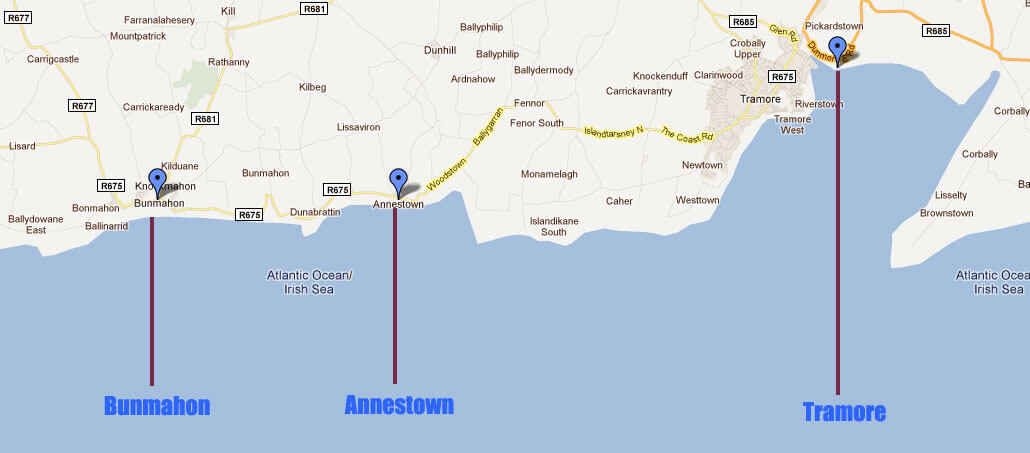 *All of these spots are listed in the stormrider guide and on magicseaweed and are therefore accepted as not being considered secret! All care has been taken not to mention any of the surf spots which cant be found in these places.
Tramore Main Beach
* Suitable for beginners to intermediate surfers
The centre of surfing in South East of Ireland and where we are based! With its 5km stretch of beach. Average beachbreak peaks that occasionally turn on with the elusive NE offshore Wind.
On bigger swell usually better on high tide and smaller swell better on low tide!
Surf Shops, Surf Schools and Ding Repair services all available in the town.
Tramore Surf Forecast on Magicseaweed
Tramore Incredible Wave
Suitable for intermediate & advanced surfers
Another rare south coast treat, the Incredible Wave breaks off the headland at the eastern end of Tramore strand. Needs a big midwinter swell. Can be hollow. Park considerately in Fitzgerald Lane near Brownstone. Water quality as above.
Tramore Incredible Wave forcast on Magicseaweed
Bunmahon
Suitable for intermediate & advanced surfers
Open, south-facing beachbreak that can get hollow and have more power than Tramore. There's a rivermouth that helps create strong rips. Works all tides if big enough but mid generally best with reforms and shorey action.Limited parking at west end slipway. Sometimes crowded.
Bonmahon Surf forecast on Magicseaweed
Annestown & The Perfect Wave
Suitable for advanced surfers
One of the south coast's finest reefbreaks. A short, sucky and hollow left that rarely gets the NE wind it needs to be offshore and large SW swell. Watch out for the rocks as access is through a small gap in them. Same car park as Annestown.
Annestown Surf forecast on magicseaweed