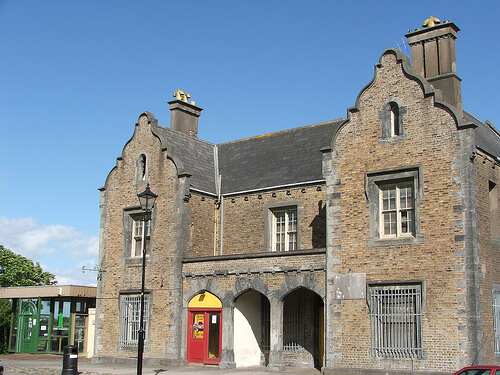 Waterford-Tramore Railway
Before the late 18th century, the town was a small fishing hamlet. Thereafter the potential of the town as 'a pleasant retreat for the citizens of Waterford and others who assembled there for the benefit of the salt water' was realised. A tourism boom has left a legacy of buildings dating from the 1860s such as the terraced housing on Strand Street. Opened in 1853, a 12 km (7 mi) long railway line ran from Waterford's Railway Square to the Terminus in Tramore. It was unique in that it was not connected to any other line. Tramore railway station opened on 5 September 1853 and finally closed on 1 January 1961.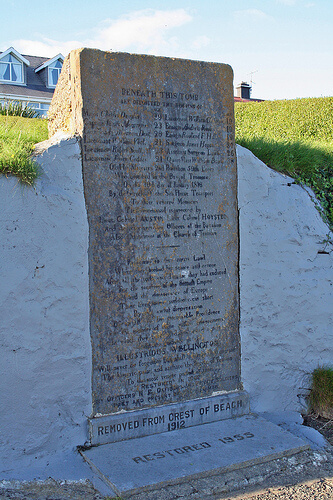 In 1816, the Sea Horse, a military transport ship, with the 2nd battalion of the 59th Regiment of Foot, was wrecked in Tramore Bay, and 292 men and 71 women and children perished. Some time later the Sea Horse was adopted as the symbol of the town of Tramore, and was later adopted as the logo for Waterford Crystal in 1955. From the sea, the treacherous Tramore bay looks like the traditional safe haven of Waterford estuary. After the event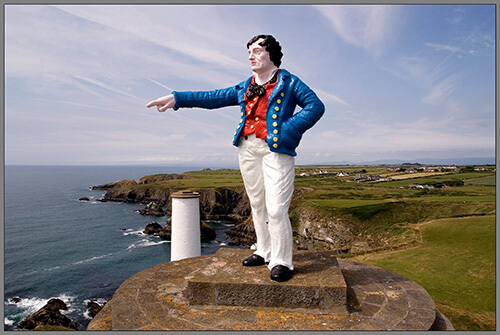 A prominent feature of Tramore bay is the "Metal Man". It is a large cast-metal figure pointing seawards, set on top of one of three pillars. It was erected in 1823 by Lloyd's of London to warn seafarers away from dangerous shallow waters. Two more pillars sit on the headland opposite, Brownstown Head. There are many myths and legends surrounding the Metal Man. One such myth is that if a woman could hop barefoot around the base of the Metal Man three times she would be married within the year. The Irish broadcaster RTÉ recently had an item on its Seascapes radio programme on the history of the Metal Man and its current state of repairs.

On the night of 6 June 1921, during the Irish War of Independence, fifty local IRA Volunteers attempted to ambush a party of forty British troops from Waterford City, who were coming to Tramore following an attack on the RIC barracks there. The ambush took place at Pickardstown, about a mile to the north of Tramore. The ambush failed to go according to plan, and two IRA men were killed and two wounded. The Tramore GAA field is named after one of the dead Volunteers.Information taken from www.wikipedia.com after verification.